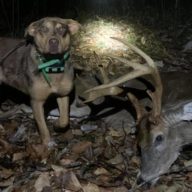 Tommy Strickland
4867 W. Crescent Lake Dr.
Meridian , MS 39301
Home Phone: 601-616-1018
Cell Phone: 601-616-1018
My name is Tommy Strickland and my tracking partner is Hobo. We are located in Meridian, MS and currently track in Mississippi and Alabama. We will travel a reasonable distance to assist in finding wounded game. At this time I do not have a set distance as availability and situation will all be determining factors, just give me a call and we'll go from there.
We do not charge for our services but if the hunter wishes to tip then that's the hunter's option. I don't leave expecting anything more than appreciation and good old fashion handshake. We track on lead and off lead depending on the situation and what the individual track calls for. Hunter will be required to sign a release of liability form prior to start of track to ensure the safety of our tracking team. Currently we only track wounded deer.
If you have an event coming up such as a Wounded Warrior Hunt, Child, or Adult Disability Hunt please contact me ahead of time and I will be glad to come to the hunt location and standby to track if needed and assist in any way I can.
If you have any questions please feel free to contact us a 601-616-1018 or look us up on Facebook by searching #BlueDogTracking