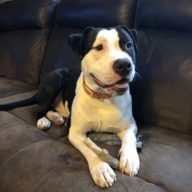 Aaron Bangel
8191 upland bend
Camby, IN 46113
Home Phone:
Cell Phone: 317-732-7999
Beau and I have been training for a few months now and his progress is astounding. When training, I use a real hide, real blood (watered down) and a real hoof. At the young age of 6 months, he's already tracking up to 1/2 mile. He continues to impress as time goes on. Please, don't hesitate to call us. He needs all the experience he can get.
Update: 3/24/19 we have added another dog. She's a Redtick Coonhound named Ella who's currently 2.5 months old and will be 9 months at the start of deer season. We've already began to train and she's looking great. I will post updates as time goes on.
Winding River Deer Tracking
317-732-7999 (business)
If possible, send a text if I don't answer, there are too many scam calls going around.
Availability:
weekdays- after 5 (limited to local tracks)
Weekends- anytime
WILL TRAVEL UP TO TWO HOURS DEPENDING ON DAY AND TIME.
Published: 10/16/18