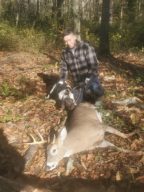 Ryan S
Dover, DE 19901
Home Phone: 302-643-2465
Cell Phone: 302-643-2465
10 month old GSP with successful recoveries. Please note the following important items:

-Please have prior permission for any private land we may need to access.

– It is extremely important that the "hit-site" and last blood be marked in some manner.

-If you have grid searched prior to my arrival, our chance of a successful recovery will be reduced.

Text to reach me at: 302.643.2465. If you call, please leave a message if I don't initially answer.