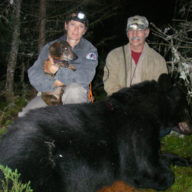 Susanne Hamilton
94 Choate Road
Montville, ME 4941
Home Phone:
Cell Phone: 207-249-8078
I have been tracking wounded large game (bear moose and deer) for the past 18 years. We currently take approximately 100 calls per season.
I cover most of the midcoast during gun season but will travel quite far for bear and moose.
You can call me 24/7 if you are in need of a tracker.
I do not charge for my tracking services. A donation to help cover my expenses is not required but gladly accepted.
Remember to mark your hit site, and/or blood trail and refrain from contaminating the point of loss too much by grid searching
207 249 8078