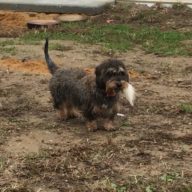 Joe Darty
Blackbird Station Rd
Townsend, DE 19734
Home Phone: 262-220-0591
Cell Phone: 262-220-0591
Call and leave a message. Can also service parts of Eastern MD.
I do not track injured or lost pets.
Please read first before calling:
Humpfree and I will do our best to find your deer, but please understand, we will not recover every deer. Humpfree has successfully completed the UBT II evaluation through the United Blood Tracker organization , and has recovered several deer over 3 seasons.
If you think for ANY reason the hit is questionable, do not attempt to recover the deer. Simply walk out quietly and call.
If you start tracking and lose blood, do NOT start walking around trying to locate it. You are carrying scent to other areas, thus making it much tougher for the dog. Mark the last point of sign, and back out and call. I know this isn't always the easiest thing to do, but it will greatly increase your odds of recovering your animal if you back out and leave the track fresh and undisturbed.
Also, if you try tracking blood yourself try to stay off on the side of the blood tail in order to prevent carrying the scent off in the woods when you leave the last point of sign.
Get permission from neighbors to track on their property, just in case. We will not trespass!!!!
When we arrive to help you, please be prepared to listen to a brief explanation on how the tracking will proceed. Also, in Delaware it is illegal for a hunter to use a dog to track on Federal Land. Therefore, I cannot track in Bombay Hook, Prime Hook, or any other Federal properties.
The sooner you call the better. I would much rather come out for a track that you may not have needed us for, than to try to follow a track that has been compromised. Even an easy track is great work for the dog.
Pay very close attention to where the deer ran after the hit, and try to mark the EXACT hit site.