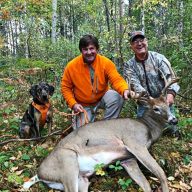 Al Sherman

Batesville/Oldenburg, IN 47036
Home Phone: 812-934-2836
Cell Phone: 812-717-0301
Val is my 4th tracking dog in 38 years. He's very good. And UBT certified. We track in Indiana starting on November 1st through the close of all seasons in January.
We never accept money. We just love to track!
Please call my home AND cell phone both. Please leave message on both phones. Cell service is sketchy.
Check out our Facebook page: https://m.facebook.com/DatSpottedDog/
Thanks!