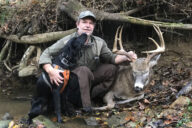 Andrew Bensing
Reading, PA 19605
✅ UBT Tested
Home Phone:
Cell Phone: 610-413-7094
I have been tracking with Leashed Tracking Dogs for over 20 years. We take 125-150 tracks per year and my dogs and I have 100's of recoveries on the tailgate. Tracking is my serious hobby. We don't charge a fee but tips are gratefully accepted.

PENNSYLVANIA- I am available to track in Berks, Lehigh, Bucks, Montgomery, Delaware, West Chester, Lancaster, York, Lebanon, Dauphin and Schuylkill. I will travel further if time allows.

MARYLAND- I am available to track in primarily Cecil, Harford, Baltimore, Kent and Queen Anne Counties.

DELAWARE – I am available to track in northern Delaware south to about Dover.