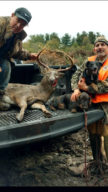 Marc Niad
Yorktown Hts., NY 10598
Home Phone: 914-434-1231
Cell Phone: 914-434-1231
NEW YORK – I am available to track in Westchester co. Putnam co. Dutchess co. Southern Columbia co. Orange co. Southern Ulster co. SouthEast Sullivan counties and may travel farther for special requests.

NEW JERSEY – I am available to track in Sussex co. Passaic co. Morris counties

Annie is a German Wirehaired Dachshund. Dakota is a German Jagd Terrier. My dogs are certified tracking dogs. Dakota is entered in the Deer Search Hall of Fame.
I am a master handler with Deer Search.
Sorry, I do not track lost pets.