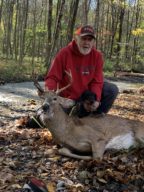 Walter Dixon
Tully, NY 13159
Home Phone:
Cell Phone: 3154404489
I've been tracking with dogs since 1992 and am also a life member of the Founding Chapter of Deer Search and Deer Search FLC. I'm an avid bowhunter and have taught bowhunter ed for over 25 years. I'm also a member of the. Pope and Young Club along with a Qualified Regular Member of The Professional Bowhunters Society.
All this info is simply to let you know of my outdoor experience and involvement in big game hunting and tracking and. If you call use all my experience to assess your shot and if I can't help you I'll refer you to some of the best trackers in the area your hunting.
My dog, "Dachs von Tier Spur" is a 9 year old wire haired dachshund and is experienced and anxious to track your deer or bear!!