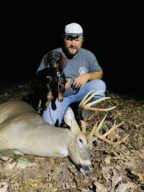 Toby Burdette
Utica, OH 43080
✅ UBT Tested
Home Phone: 740-281-6435
Cell Phone: 740-281-6435
We tracked mainly out of Ohio last season with great results this year we will continue to track in Ohio and bordering states! Legend is UBT 2 certified! Legend may be small however he is working hard to hold up to his name. Can also look us up on Facebook ( Toby Burdette ) or can find Legend at Legend's Big Game Recovery on Facebook as well.
Stop on by and check out his work!!
Please call and text both as cell service is sometimes sketchy!