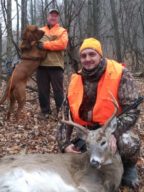 Philip Huber
Naples, NY 14512
Home Phone: 585-506-6534
Cell Phone: 585-506-6534
Primary service area: Upstate NY in the Finger Lakes Region.
The team at Deer Mountain Tracking is comprised of three dedicated, experienced, professional trackers.
Our group members (Jon Betrus & Jason Pollock) are also licensed guides & experienced hunters. We own and use some of the most modern equipment available to increase the odds of recovery.

My tracking dog(s) are Bloodhounds named Ariel and Adella. They have recovered MANY whitetails with all types of wounds. Paunch shots handled properly have 90% recovery rate over the past five years. We pride ourselves on customer service. We aim to assist as many hunters as possible, even when the outcome may not be favorable. Please understand at times we receive many calls and simply cannot keep up. Texting works better than calling.

Please be considerate of our time, if we commit to your track it's the expectation that you do not "jump" trackers . Calling multiple trackers to see who shows up first is not how we operate. Weather, the type of wound, and travel distance are all factors in determining when we start your track.

Visit website: Deermountaintracking.com for more information.