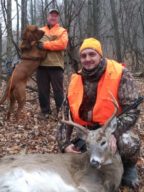 Philip Huber
Naples, NY 14512
Home Phone: 585-506-6534
Cell Phone: 585-506-6534
Primary service area: Upstate NY in the Finger Lakes Region.
My team is comprised of three dedicated, experienced, professional trackers.

Tracking dog(s) are Bloodhounds named Ariel, Ava & Adella. They have recovered MANY whitetails with all types of wounds. Paunch shots handled properly have 98% recovery rate over the past four years.

Please be considerate of our time. Calling multiple trackers to see who shows up first is not how we operate.

Visit website: Deermountaintracking.com for more information.